Limited Edition of One
Image Size: 5'9" x 132 lbs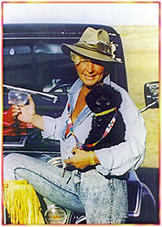 Profession:

Wildlife artist and hunting guide

Age:

Forever young

Birth Sign:

Pisces on the cusp

Home:

Casper, Wyoming foothills

Art Education:

Bauhaus, Munich; Academy of Art, Bremen
Favorite Books:

Brothers Grimm's Fairy Tails and Checkbooks.

Favorite Movies:

Ones with Happy endings

Favorite TV Programs:

MASH reruns, Jeopardy and National Geographic Specials

Favorite Music:

Rock & Roll, Reggae, Gilbert & Sullivan and Beethoven

Favorite Party Animals:

My husband Gary, Bunnies and Puppies

Favorite Colors:

Turquoise, Hot Pink and Sun Yellow

Favorite Foods:

Artichokes with béarnaise sauce and Steak Tarter

Favorite Drinks:

Expensive Vodka and cheap Champagne

Favorite People:

Blackjack dealers that BUST!
Unique? Absolutely! She was definitely a ...
LIMITED EDITION OF ONE!
Warm, effervescent and a study in perpetual motion, Vivi was equally comfortable at home, at the easel, in the mountains or at a gala opening. Her 20 years in the West, coupled with her extensive European art training, is a blend that allowed Vivi to produce today's most noteworthy Wildlife Art.
Vivi accomplished what all artists strive for; a recognizable style all their own…. The detail she achieved was amazing with soft focus and the frequent use of motion that added to the lifelike appearance of her paintings. Vivi's crowning glory, however, was the inner luminescence of the eyes - best described as "Alive".
It obviously worked. Collectors waited, sometimes years, for an original, and her limited edition prints are still carried in over 300 galleries. Perhaps more importantly, Vivi's art has raised over a million dollars for Wildlife causes with Ducks Unlimited, Rocky Mountain Elk Foundation, National Wildlife Foundation, Wyoming Wildlife Foundation and she was the 1997 Featured Artist for the Foundation for North American Wild Sheep ... and the species they represent all being beneficiaries.